Ralph Fasanella SIGNED Night Game Yankee Stadium Print 1982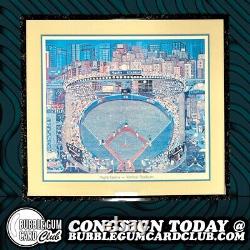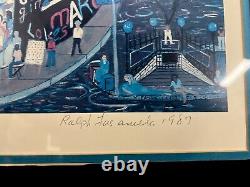 Print can be removed from frame if desired. Thank you for your interest in this item!
This item is being consigned with Bubble Gum Card Club! If you have any questions regarding this item please do not hesitate to send us a message! We strive for 100% feedback! Please message us with any questions you may have. Thank you for your business!
Item Condition/Details - Please Read. Please see the listing photos for the condition of the card or item. We cannot accommodate requests for additional pictures. Any notable flaws or damage putting them outside the condition stated in this listing will be noted at the top of this description. Please use photos provided for your own assessment. Condition is noted as used - Items can have any number of issues that do not detract from the overall look of the image of the item. These issues can include scratches/surface wear, and flaws on edges and corners. See photos provided for centering condition as well as to make your own assessment of card condition. PLEASE NOTE THAT SOME TOP LOADERS, CASES, AND GRADED CARD HOLDERS MAY BE SCRATCHED AND DOES NOT REFLECT THE ACTUAL CONDITION OF THE ITEM INSIDE. 25 for each additional item. 25 per card (max 2 cards). No graded cards or items requiring a larger envelope may be accommodated. This does not include wax listings for boxes and cases, or for larger items such as memorabilia.
Graded card cases may come chipped, scratched and scuffed. All single cards will come in protective top loaders.
If you were not able to get your question answered from the information provided in this listing, please feel free to message us.