New York Yankees 1/2 Season 2021 Ticket Plan 40 gms/ 80 Tix @FACE VALUE / $2,400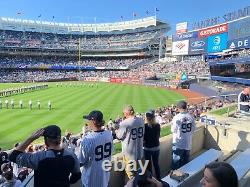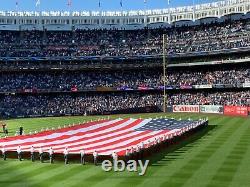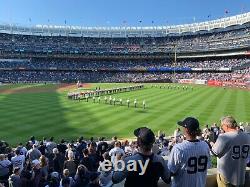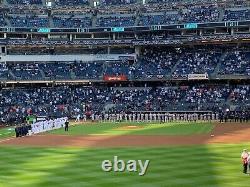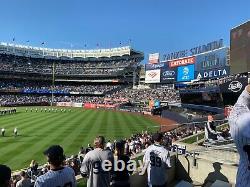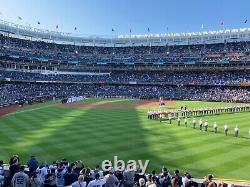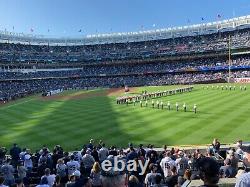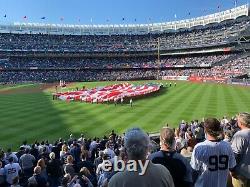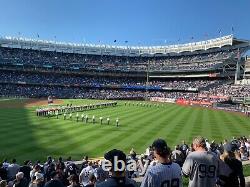 Two seats side by side to each home game (81 total games) of New York Yankee 2021 MLB Season. These tickets (162 of them) represent the least expensive Yankee Stadium season ticket package and BEST VALUE on the Internet or elsewhere for Yankee tickets. Opening Day tickets would NOT be included in this scenario. Send a note re: this option if interested.
You chose either the odd numbered scenario or the even numbered one. Season series include at least one game vs. The Toronto Blue Jays, Baltimore Orioles, Tampa Bay Rays, Detroit Tigers, Atlanta Braves, Houston Astros, Chicago White Sox, Washington Nationals, Boston Red Sox, Oakland Athletics, Kansas City Royals, Los Angeles Angels, Seattle Mariners, NY Mets, Philadelphia Phillies, Cleveland Indians & Minnesota Twins. One Half of Season would be for two tickets to each of 40 Home Games (80 tickets) numbered. #3, 5, 7, 9,11,13,15,17,19,21,23,25,27,29,31,33,35,37,39,41,43. 45,47,49,51,53,55,57,59,61,63,65,67,69,71,73,75,77,79 & 81. The Other Half of the Season would include 40 Home Games (80 tickets) numbered. # 2 , 4 , 6 , 8 , 10,12,14,16,18, 20, 22,24,26,28,30,32,34,36,38,40, 42,44,46,48,50,52,54,56,58,60,62,64,66,68,70,72,74,76,78, & 80. This Yankee package would be a generous Holiday, New Year, Birthday, Anniversary or special gift for the true Yankee fans in your life. Root for Gerrit Cole, Aaron Judge, Gleyber Torres, Giancarlo Stanton, DJ Lemahieu, Luke Voit, Aaron Hicks, Brett Gardner, Gio Urshela & Gary Sanchez.
Beautiful view of entire field at an eye level equivalent to the 200 Sections of the Stadium (Main Level where broadcast booths are located and tix are 3x the price). You are also free to roam around the circumference of the field and watch the game from behind Field Level seats as space is available. Access to Mohegan Sun Sports Bar is also available nearby. A creative way to take advantage of this already low cost way to enjoy the season would be to split the cost among several friends.
Section #204 is the Section between the well known "Bleacher Creatures", who lead a spirited "Roll Call" for each starting Yankee player before every home game and the seats in Row 4 are next to those in "The Judge's Chambers" (the section where Aaron Judge has been known to blast home runs to right field on occasion). Home runs are often hit into the lower area of Sect #204, exactly where these seats are located!
Help root the team home to the playoffs. Post season tickets are NOT included. Good luck to the Bombers and all Yankee fans in 2021 --- Perhaps this will be the year the team makes it back to the World Series! The item "New York Yankees 1/2 Season 2021 Ticket Plan 40 gms/ 80 Tix @FACE VALUE / $2,400" is in sale since Thursday, October 8, 2020. This item is in the category "Tickets & Experiences\Sports Tickets". The seller is "5363dk" and is located in Larchmont, New York. This item can be shipped to United States.
Event Year: 2021
Team: New York Yankees
Venue City: New York
Section: 204
Venue Name: Yankee Stadium
Type: Baseball
Row: 4
Event Date: 2021
Event Month: April
Event Day: April 1st, 2021
Venue State/Province: NY